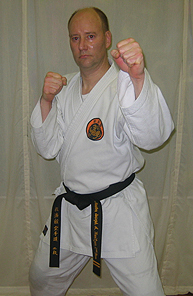 Master 3rd Dan Degree Joseph Kreitzer

Personal Info
57 years old (2013)
Married 30 years.
1 have a son 25 year old, attending college.
BS Syracuse University in Marketing & Management Data Systems
MBA University of Colorado, Empasis in Finance.
President & CEO Prudential Stainless & Alloys L.P., a Master Distribuitor of Metal Products. Have been working there for 33+ years in various capacities.
Besides Karate, enjoy skiing, sknowboarding, golf, windsurfing and hiking.
Martial Arts Info
3rd Dan Black Belt at Dan's School of Martial Arts. Have been training there 17+ years.
2nd Degree decided Black Belt Tae Kwon Do. Trained 11+ years. No longer practice Tea Kwon Do.
Went Back to White Belt from Black Belt in order to train with Master Dan.